Our Printing Solutions
Let us help you make a good impression

Vehicle Wrapping
Turn your vehicle into a mobile billboard. It is durable and UV resistant.  It is non permanent and can be removed at a later date without any damage to your car's bodywork.  Can be used as a solid colour to temporarily change your car's colour.

Textiles
We can create designs on all sorts of garments including T-shirts, Polo Shirts, Sweatshirts, Hoodies etc..

Signs
Signage can be chic, fashionable, slick, subtle or many different adjectives that can describe your business,  which is why it's important to get it right.   We are here to ensure your signs complement and endorse your brand correctly.

Labels
Even small-lot label production can be performed speedily and at a low cost.  This is perfect for customers who would like to increase commercial value by providing premium sample labels for forthcoming products, unique labels for original goods, and promotional stickers.

Canvas Art
It's easy to turn a favourite photo into a work of art. Individually hand-stretched & Image wrapped around 3.5cm thick wooden edges.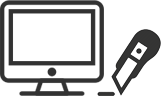 Computer Cut Stickers
Cutting from a vast spectrum of vinyl colours and working with our wide format print and cut machine, your logo and corporate identity can confidently be reflected.  Working with the curves and lines of the vehicle and not against them, and applying our judgement and experience, a smart and effective result is achieved every time.

Display Stands
Our product range covers every area of promotional signage and display. It extends from our renowned pavement and forecourt signs through an extensive range of wall mounted and suspended display solutions as well as award-winning POP merchandising and exhibition systems.

Graphic Design & Printing
We offer a wide range of design solutions to fit all your marketing needs.  From corporate identities and print collateral, we have the tools to make your company a leader in its field.

Large Format Printing
We can supply digitally printed material in dozens of different types of materials and finishes.  From standard vinyls, banners and papers, to specialist back-lit films, roll up banner materials, vehicle wrap films, contravisions etc..  All the material is in stock, and we can offer a same day service dependent on time of order and current work load.
View our Portfolio